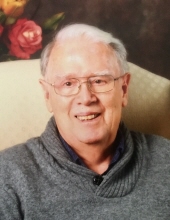 Obituary for John W. Thorsberg
John Willard Thorsberg, 90, passed away in Phoenix AZ on Thursday, December 14, 2017. He was born, August 22, 1927 in New Haven Connecticut, to the late Theodore F. and Crucita (Sola) Thorsberg. Jack, as he was fondly known to all, attended Dow Private School during the early 1940's and graduated from Midland High School with the class of 45'. He then went on to study his B.A. at Kalamazoo College and, in 1951 received his Chemical Engineer diploma at the University of Michigan. Jack went on to work at Dow Chemical and, while working as General Manager for Dow Chemical in Mexico City, Mexico, met his late wife Gloria Rojo de Thorsberg, where they married in 1958.

After having 3 children in Mexico D.F., Gloria Elizabeth, Alexandra and John Evart, he returned to Midland in 1964, to continue with Dow Chemical, where his 4th child, Katherine, was born. His love for Midland and its history was familiar to all those who knew him, sharing stories of street names and businesses, always with a good anecdote while remembering friends and family. He liked sailing and playing golf, and "Jack's Place", his parent's cottage on Lake Huron, embraces many beautiful summer memories.

In 1978, the family moved to Bogota, Colombia where he continued to work for Dow Chemical until his retirement in 1982. Very active with the Bogota Equestrian Club, and later the Guaymaral Country Club where his daughter Katherine was a show jumper, he was much admired for his administrative skills and loved by all. He was also an active and respected board member for his wife's family's flour mill, Harina 3 Castillos, in Cartagena Colombia. He returned to his beloved Midland in 1999 where he lived at Independence Village until 2014. He spent his last 3 ½ years, at Hawthorne Court, in Phoenix Arizona, near his daughter Katherine, her husband, Rafael Posada, and his beloved grandchildren Veronica, Federico and Alejandro.

Always an avid reader, economics, nature and history were subjects he was constantly updating. Enjoying family outings and his grandchildren's activities were moments of joy, happiness, and peace, where family gatherings became memories much cherished by all. Loved by all who met him, he was known for his quick wit, gentlemanly manners, kind words and worldly advice. Though we miss him dearly he will always be near us in our hearts. We will take his good teachings and sound foundations with us, his love for us forever treasured.
We would like to thank all those who were part of our father's care in the last years of his life, who share many moments, to give all their love and dedication. We would also like to thank his friends and those who have accompanied us in our moments of grief and given us support with words of comfort and love.

The memorial service will be held April 7th at the First Baptist Church in Midland, MI located at 915 E. Sugnet Rd. Family and friends will be received from 10 to 11:00 am followed by a memorial service from 11:00 to noon. We would like to invite all to a luncheon in the Hearthside Room as an opportunity to share memories, and then accompany us to Jack's final resting place next to his parents at the Midland Cemetery. He was predeceased by his wife Gloria and his sister Sarita Patow.

Arrangements have been entrusted to Ware Smith Woolever Funeral Home. Those planning an expression of sympathy may wish to consider a Hospice close to their heart.
Previous Events
Visitation
First Baptist Church
915 E. Sugnet
Midland, MI 48640
Memorial Service
First Baptist Church
915 E. Sugnet
Midland, MI 48640
Cemetery Details
Location
Midland Cemetery
3220 Orchard Drive
Midland, MI 48640