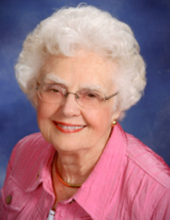 Obituary for Mildred Plate Putnam
Mildred Plate Putnam,98, passed away peacefully at home, on Thursday January 18, 2018 . She was born March 13, 1919 in Marysville, Ohio to the late John Bell and Anelia (Carmean) Plate. As a young child she and her family moved to Detroit.



Mildred graduated from Mackenzie High School in Detroit in 1937. While attending Albion College she was a member and president of Mortar Board, Kappa Delta Sorority and Pan-Hellenic Council. She was also involved with the Biology and Chemistry clubs and many other campus activities. She graduated in 1941 with majors in chemistry and

biology. She went on to work for the Ethyl Corporation in Detroit.



Mildred met her future husband Mark Sheldon Putnam while attending Albion College. They were married on September 18, 1943 and, spent 58 wonderful years together. After Sheldon completed his service in the Navy, he and Mildred moved to Midland in 1946 to make their home, where they raised their four children. She was devoted to her family, interested in each, with encouragement grounded in unconditional love.



Always eager to grow and learn through new experiences, Mildred loved traveling with family and friends. Their trips took them worldwide. Memories were also created during the Putnam/Caldwell family trips.



Living through the depression in Detroit, she learned the lesson of sharing. She was previously quoted saying: 'You don't have to do a lot, anything you can do makes ripples' and 'If everyone helped a bit, we would all be better off.' These ideals led to a lifetime of volunteering and support in the community.



Mildred served on various committees of the Midland Community Foundation, was a member and past president of King's Daughters and Sons Home Board, and was involved with numerous other community organizations.



She was a longtime member of the Memorial Presbyterian Church, serving as an Elder, president of the Presbyterian Women's Association and was on numerous committees. Mildred was a member and past president of PEO, Chapter CZ, and Contemporary Review Club and a member of the Midland Country Club.



Many wonderful summers were spent at the family cottage at Epworth Heights in Ludington, MI. A shared family ritual was watching Lake Michigan's beautiful sunsets from the porch of Journey's End cottage.



Mildred was of strong spirit, capable and full of wisdom. She cheerfully approached her life with a positive attitude, sense of humor, and a kindness and caring for others. She was a remarkable woman dearly loved by her family and whose guiding presence and love will be missed each day.



She is survived by three of her four children. Mildred's son John Putnam (Cynthia) of Midland, their daughter and son Christine Putnam of Denver, CO and John Putnam Jr. of Boulder. CO: Mildred's daughter Charleen Lester (Michael) of Ludington, MI, their four sons Andrew Lester (Shannon) and their children Rachel and Zachary, all of Bend, OR, Dr. Bradford Lester and his daughters Tai and Aspen, all of Kamas Utah. Paul Lester (Jena) and their daughter Azalea all of Evergreen, CO, and Daniel Lester (Ashley) of Boulder, CO; Mildred's daughter Barbara Smith (William), their daughter and son Abigail Smith and Ethan Smith all of Midland; and her three step grandchildren Marcus Smith (Jennifer) of Marshall MI, Michelle Smith of Marshall MI and Melissa West (Joseph) and their son and daughter Grace and Aiden West, all of Coldwater MI. She was preceded in death by her daughter Ruth C. Putnam whose two daughters are Lauren Bemenderfer and daughter Autumn, both of Granger IN and daughter Nicole Putnam and her son Steil and daughters Shylah and Sonyah, all of South Bend IN. She is also survived by niece and nephews, Patricia Sutton of Centennial CO, David Caldwell (Sue) of Denver CO and Richard Caldwell (Anne) of Midland.



She was preceded in death by her husband Mark Sheldon Putnam, her daughter Ruth C. Putnam, granddaughter Ruth-Marie (Ruthie) Putnam Smith, and sister in law and brother in law Ruth and R. William Caldwell.



Funeral Services will take place at 11:30 a.m., Saturday, February 3, 2018 at the Memorial Presbyterian Church with the Reverend Dr. Wallace H. Mayton III officiating. Following a luncheon, internment will be in Midland Cemetery.



Mrs. Putnam's family will receive friends at the church from 9:30 a.m. until the time of service. Those planning an expression of sympathy may wish to consider the Memorial Presbyterian Church, Midland Community Foundation, MidMichigan Hospice Circle of Love, or Epworth Church Association.



Arrangements for Mrs. Putnam have been entrusted to the care of the Ware Smith Woolever Funeral Directors, 1200 West Wheeler Street.
Previous Events
Visitation
Memorial Presbyterian Church
1310 Ashman St
Midland, MI 48640
Service
Memorial Presbyterian Church
1310 Ashman St
Midland, MI 48640
Cemetery Details
Location
Midland Cemetery
3220 Orchard Drive
Midland, MI 48640