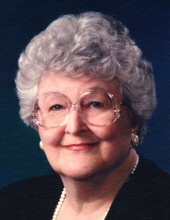 Obituary for Jeanette Burton Neithamer
Jeanette Burton Neithamer, 88, passed away peacefully in her sleep the early Tuesday morning, February 27th, 2018. She was born Edna Jeanette Burton on May 13th, 1929 in Brasfield, AR, the daughter of Howard Allen Burton and Johnnie Emily Reed. She spent her formative years in Brasfield and Brinkley before moving to Stuttgart, AR. Jeanette loved music, taking piano and violin lessons, and particularly enjoyed the symphony and opera. She received her Bachelors degree in music education from Henderson State Teachers College and her Masters of Music Education as a Voice major from Louisiana State University in Baton Rouge, LA. She was a member of the Sigma Alpha Iota International Music Fraternity and also played violin in several community orchestras.

She initially taught music in several Arkansas and Louisiana public schools before taking a teaching position in music at Lebanon Valley State College in Annville, PA. During a faculty dinner at the beginning of the semester, she met Richard Walter Neithamer, and four months later they were married on January 25th, 1958. Richard's teaching jobs took them to East Texas State University in Commerce, TX and Rose Polytechnic Institute in Terre Haute, IN, before settling in St. Petersburg, FL in 1964 where he was a professor in Chemistry at Florida Presbyterian College (now Eckerd College). During this time she sang in a number of church and community choirs. Once settled in Florida, Jeanette joined the St. Petersburg Boys Choir conducting the youth and training choirs for seven years and was a member of the American Association of University Women (AAUW). Although music was her passion, her family was her life.

Jeanette particularly enjoyed the family hobby of collecting minerals and was a long time member of the Tampa Bay Mineral and Science Club. The family traveled to numerous shows across the country displaying their mineral collections. Richard and Jeanette also traveled to London four times taking Eckerd College student groups for studies abroad. After Richard retired in 1991, they enjoyed their time in Florida together until Richard's death in 2002. After two years, she moved to Midland, MI to be closer to her family and treasured her time watching them grow-up. Jeanette is survived by her son, David Neithamer (Elizabeth) of Midland, grandchildren, Kyle Neithamer (Courtney) of Chesterfield, MI, Kelsey Neithamer of Marion, AR, Scott Neithamer of Midland, MI, and her great-granddaughter, Emelia Neithamer.

As she wished, her ashes will be interred with her husband at the Woodlawn Memory Gardens in St. Petersburg, FL following cremation. A memorial service of remembrance will be held at Memorial Presbyterian Church in Midland, MI at a future date. In recognition of her love of music, those wishing to express their sympathy are asked to consider supporting the Midland Symphony Orchestra at the Midland Center for the Arts (1801 W. St. Andrews, Midland, MI 48640). Arrangements have been entrusted to the care of Ware-Smith-Woolever Funeral Directors.