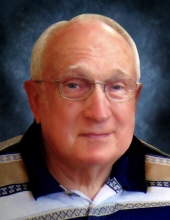 Obituary for Arthur Edward Maass
Arthur Edward Maass, 91 years, of Midland, died Friday, March 30, 2018 at his home, surrounded by his family. He was born July 14, 1926, son of the late Walter and Irene Maass of Rochester, MI. Arthur married the former Pauline Beach on February 8, 1947 in Rochester. They were married 71 years. He was a loving husband, father and grandfather. Arthur enjoyed traveling in his motor home all over the United States and to other countries. He enjoyed the 19 years he spent during the winter in Florida away from the winters of Michigan. Arthur earned a degree in Civil Engineering from Lawrence Institute of Technology 1963. He moved to Midland in 1963 to run their waste plant. Arthur worked for the City of Midland for 27 years, some of that time being spent as the Utilities Director. He retired in 1990 and then began working part time for RETAP (Retired Engineers Technical Assistance Program) for the State of Michigan. Arthur was President of Michigan Waste Water Association and was also on the Board of Directors of the National Waste Water Association. He earned many honors in this field and greatly enjoyed his work. Arthur was an active member in his church and was on the board of the association where he lived before moving to Colonial Villa.

Surviving in addition to his wife are his two daughters; Dawn (Bryon) Plumer of Sanford, MI and Lore (Gary) Dearing of Flushing; four grandchildren; Tadd Underhill of Midland, Melissa Harris of Charlotte, NC, Jennifer Popovits of Marshall; Brian Dearing of London, England. Also surviving is his sister, Myina Kelly of Alpena; and six great-grandchildren; Katie Underhill, Amelia and Savanna Mielke, Mason, Emma, and Mavarick Popovits. In addition to his parents, Arthur was predeceased by his sister Darlene Allen.

Cremation has taken place and a Memorial Service to celebrate his life will be take place at 11 a.m. Monday, April 9, 2018 from the Midland Nazarene Church at 5700 Jefferson Ave. in Midland. Those wishing an expression of sympathy are asked to consider the Food Pantry of Midland County or the Nazarene Church Memorial or a charity of the donor's choice.
Previous Events
Service
Midland Nazerene Church
5700 Jefferson Avenue 1-989-631-4620
Midland, MI 48642
Memorial Contribution