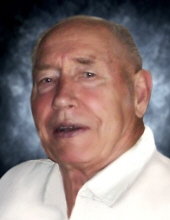 Obituary for Leonard Hagley
Leonard Hagley died late Sunday night, April 1st, 2018, at home in his favorite chair, in the company of loving family and his favorite cat.

Leonard was born in Standish Michigan on a dairy farm, in the middle of the depression. He had to quit school after 8th grade to help on the farm. At 18 he enlisted and was sent to Japan just after the end of WWII. While there he was in a traffic accident and barely survived, sustaining injuries that would pain him the rest of his life. Shortly after coming home, he got a job at Dow Chemical, where he worked for the next 35 years, rising to the position of General Foreman. While working full time he managed to get married; build a house; raise a child; build another house; build a barn; raise cattle and hay and apples and chickens and raspberries and a huge vegetable garden. He was an avid hunter and fisherman, and loved canoeing the Chippewa. In his last years he doted on his cats. And oh how he loved his beautiful Chippewa Pines, where he lived the last 50 years of his life; his last words were "goodbye, place". He was an amazing man.

Leonard is survived by his daughter Vickie, and friends and family too numerous to list. He was predeceased by Vera, his first wife, in 1988, and Shirley, his second, in 2010.

At Leonard's request, no services are planned. Donations may be made in his honor to the Midland Humane Society or the Wounded Warrior Project.
Events
Memorial Contribution