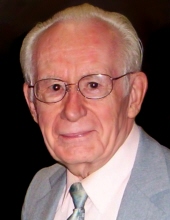 Obituary for Gerald W. Hath
Gerald W. Hath was born May 25, 1921 in Vicksburg, MI, son of Minty E. and Mary (Wright) Hath. He married Betty J. Parker July 24, 1943 at Olivet Baptist Church, Lansing, Michigan. They enjoyed 72 years together. They had three daughters, Mary Abramson, Jeralyn Hath (Bruce Lee) and Elizabeth (James) Black. There are seven grand children: Tamara (Thomas) Felix, Christina (Tina) Byland (Alex), Stephen (Steve) Griffin, Sara (Mitchell) Hardy, Theodore (Lin Ma) Abramson, Gillian Black and Zoe Black. There are five great- grandchildren: Annabelle Jojo Felix, Riley Jameson Felix, Maxwell Nils Byland, Cole Thomas Byland and Owen Ma. Gerald had a brother Kenneth (Margaret) Hath, both deceased and a sister, Eloise (Ellie) (husband: Wilbur deaceased) Louden. Mr. Hath attended grade school through the ninth grade at New Hudson Consolidated School and graduated from Byron Agricultural School in 1938. He received a Bachelor Degree in 1942 from Michigan State College. Mr. Hath served in World War II. He was drafted in 1942 and mustered out as a 1st Lt. in 1946. He trained in the U.S. and saw action in Leyte in the Philippines and Okinawa. Following the war he was employed as a herdsman on a farm in Ohio. In 1948 he entered Michigan State College earning his Teachers and Master's degrees. He was hired by the the Midland Public Schools in 1949 as a Vocational Agriculture teacher. He taught at the Grove Street School, Midland High School (old Central) and Northeast Intermediate School, retiring in 1980 after 31 years. At Northeast he was a teacher of Agriculture, 8th grade science, Audio-Visual Building Chairmen and Boys tennis manager. He was employed at Kings Daughters and Sons from 1980 to 1996 on a part-time basis. Later he served six years on the Kings Daughters and Sons Home Board. He was active in the Boy Scouts of America and 4 H as a youth and later as a merit badge Counselor. He was the Nature Counselor for four summers and the 1966 Camp director at Paul Bunyon Scout Reservation. He was a member of the Order of the Arrow. The summer of 1965 Mr. Hath directed the summer Program at the Methodist Youth Camp at Camp Knight of the Pines on Douglas Lake, Pelston, MI. Mr. Hath was active in Midland City Education Association, serving as their representative to several National Education Association's annual meetings and as a representative to the Michigan Education Association for several years. Mr. Hath was elected President of the Midland City Education Association for 1969-70. In 1986-87 he was elected president of the Midland County Association Retired School Personnel and remained active for many years. He was an active member of his church. He was a choir member since he was in high school, taught Sunday school classes for both children and adults. In the early 50's Mr. Hath was Sunday School Superintendent for the Midland First United Methodist Church. In retirement he often was found on the office computer, the kitchen or where and when needed at church. For many years he was a walker in the Annual Crop Walk. He was active in Teenage Musicals, Inc.(founded by his wife Betty) for over 50 years as a Board Member. In the early years he was Chairman of Sound and Lights and in later years the Treasurer. Mr. Hath was active in the Midland City Teachers Bowling League, Midland Senior Center and Happy Diners. He and Betty were Life Members of the Chippewa Nature Center where he served two years on the Board. He was active in the Midland Nature Club, and member of the Antique Society for several years. On two occasions he was assistant tour director to Israel acting as the minister for the group leading devotions and baptizing several members of the tour in the Jordan River. He enjoyed gardening, craft hobbies, games of all kinds, especially card games, camping and traveling with his wife and family in the early days. Later he and Betty using their motor home traveled from coast to coast many winters. The last few staying in Florida for the winter months. The last six years his residence experience was at Colonial Villa here in Midland where new resident friends and deeply caring staff became his lovely extended family. As father, grandfather, great-grandfather, brother, uncle and dear friend and teacher to so many here in Midland, Gerald Hath will be greatly missed.

A Remembrance Celebration of his life is planned for Sat. April 14th 2 p.m. First Methodist Church 315 W. Larkin St. Gerald's family will receive friends at the church one hour prior to the service. Those planning an expression of sympathy are asked to consider Teenage Musicals, Inc. or First United Methodist Church.
Previous Events
Visitation
First United Methodist Church
315 W Larkin St
Midland, MI 48640
Celebration of Life
First United Methodist Church
315 W Larkin St
Midland, MI 48640