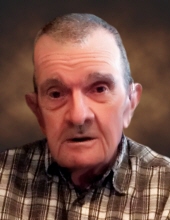 Obituary for James Ian Grunder
James Ian Grunder, 86, passed away peacefully on May 28, 2018 at Plainview Senior Living in Auburn.

Jim was born Jan. 6, 1932, in Bay City, MI, the fourth son of Frederick and Isa Grunder.

He graduated from Standish High School in 1950 and immediately joined the U.S. Air Force, serving two enlistments, first in Florida and Puerto Rico, then in Turkey and Germany with Counter Intelligence after studying the Russian language at Syracuse University. He was discharged in 1956, returned to Michigan and was rehired at The Dow Chemical Company as a Rigger. He married June Russell of London, England in 1961 and together they raised two sons and a daughter.

Jim could build or fix just about anything and much of his spare time was spent helping friends and family with building homes and various other projects.

After his retirement in 1983, Jim moved to Fairhope, Alabama where he enjoyed the warm climate, while working tirelessly to improve the environment. He also took much pride in developing a very fine brandy.

Jim was preceded in death by his parents Frederick Bernard and Isa Mae Grunder, three older brothers; Frederick Bernard, Bey Gates, and Byron Gene Grunder, and sister Ellen Ann Havens.

He is survived by his brother Glenwood Rudolph Grunder and sister Elsie Muriel Dakota; his sons Douglas Ian Grunder and Jeffery Randall (Barbara) Grunder and daughter Denise Mae (David) Drummond; four grandchildren, Troy and Trevor Grunder and Nicolle and Abby Drummond; and two great grandchildren, Emmeline and Paxton Grunder.

Among many other things, we will miss his wry sense of humor.

We want to thank the staff at Plainview Senior Living and Hospice of MidMichigan for the special care they provided to our dad, brother and grandpa during his final days.

A private memorial service will be held. Memorials in Jim's memory may be made to Plainview Senior Living or Hospice of MidMichigan.
Events