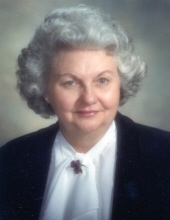 Obituary for Violet Mary Hensel
Violet Mary Hensel entered eternal life on June 2, 2018. Perhaps not so coincidentally, on that exact date 77 years earlier, Violet nearly died when she gave birth to her first child, Robert Thomas Hensel, who weighed in at over 10 pounds and whose head was the same circumference as a medium-sized pumpkin. Because she feared birthing another enormous child, she waited seven years to have her next child, Lee Anne, and another ten years to have her namesake, Violet Mary, Jr. The long pauses between children also ensured that each child got devoted attention and a proper education.

Violet found humor in most situations and treated life like a musical, singing songs throughout the day to match her mood. Her quick wit and silver tongue delivered comebacks, quips, and wisecracks that incited laughter and made most people think to themselves, "I wish I'd said that." If she disagreed with your point of view and could not find a quick retort, she would loudly hum a rambling tune in the hopes that it would drown out the absurdities coming from your mouth.

Born in Cleveland, Ohio in 1920 to parents, George and Ethel Busch, Violet along with her brothers and sister spent much time on the family farm in rural Ohio where she learned to garden/farm, harvest grapes, can vegetables, and make jellies & jams. Due to an unfortunate chicken ambush on that farm, Violet was forever afraid of chickens, and not once in her adult life did she serve chicken for any meal.

A proud 1939 graduate of Collinwood High School and then business school in Cleveland, Violet was a speedy typist and administrative whiz. Her adept fingers could also tap out church hymns and jazz tunes on the piano. Over the years, those strong hands also sewed her children's clothes, turned collars, and crocheted blankets.

In 1940, Violet married the dashing, Robert Lewis Hensel (in your mind picture Bruce Willis in Moonlighting – hubba hubba). Through their connections with Immanuel Presbyterian Church and their love for music, singing, and celebration, Violet and Bob Sr. formed tight knit friendships with couples and families in the Collinwood neighborhood of Cleveland. When they moved to St. Clair Shores, Michigan, in 1953, Violet was so homesick for Cleveland that her hand-written letters and lengthy phone calls kept postal service & phone company employees busy for decades.

Violet was a masterful baker (thankfully, her chicken phobia did not extend to their eggs). In Violet's house, kitchen counters were covered in her homemade coffee cakes (almond paste is a magical gift from heaven!) and buttery, pecan sticky buns. She encouraged her grandchildren to eat Sanders' Bumpy Cake for breakfast, tear around like wild little hellions all day, and fall asleep on the living room floor whenever they liked.

Violet was a supreme hostess, and with her big hair, tall heels, and melodious voice, she was the life of the party. Her friends always agreed that if Violet provided the party venue and cooked a never-ending spread of food, they would gladly clean up the aftermath.

At the age of 73, Violet retired from her position as Secretary of the Detection Bureau for the City of St Clair Shores. We are not sure how they managed to solve cases without her. She was also a Trustee and Elder at Lake Shore Presbyterian Church, as well as a dedicated volunteer at Lakeview Schools.

Violet (Mom, Grandma, and Friend) believed in all of us before we believed in ourselves.

She is reunited in heaven with the hunky Robert L. Hensel; her son Robert T. Hensel ("My son, the doctor," as she used to say); and brothers, George Jr and Arthur. She is survived by sister Edith (Speedy Edie) Valore; daughters Lee Anne Hensel & Violet Hallmann (Don Hallmann); daughter-in-law Lynise (Freddie) Hensel; grandchildren - Carrie, Robert (Bert), Michael, & Austin; and great grandchildren - Gena, Henry, Will, & Miles. Violet was an aunt and great aunt to many, and a fun and devoted friend to all.

You may be tempted to send bouquets of violets and/or singing telegrams; however, in lieu of flowers or gifts, please send donations to King's Daughters Home of Midland or to the family, who will forward your donation to King's Daughters.

All friends, family members, and caregivers (past and recent) are welcome to a celebration of Violet's life on June 23 from 2 to 5:30 pm at the American Legion Hall in Midland, MI. Celebrations will also be held in Mentor, OH with a visitation at Brunner Sanden Deitrick Funeral Home in Mentor, OH on Sunday, August 26, from 1 to 5 pm. A service will follow on Monday, Aug 27 (time to be announced). Arrangements for Violet have been entrusted to the care of the Ware Smith Woolever Funeral Directors.
Previous Events
Celebration of Life
American Legion Post 165
5111 Hedgewood Dr
Midland, MI 48640
Visitation
Brunner Sanden Deitrick Funeral Home
8466 Mentor Avenue
Mentor, Ohio 44060
Memorial Contribution