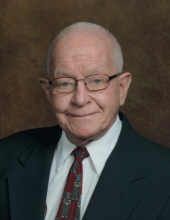 Obituary for William "Bill" Wilson Bakke
William "Bill" Wilson Bakke, 88, died June 23, 2018, in Midland at Bickford Assisted Living & Memory Care. Bill was born and raised in Hettinger ND, on February 4, 1930, son of the late Orville E. and Beatrice E. (Willson) Bakke. He earned a B.S. in Chemistry from Jamestown College in Jamestown ND in 1951, followed by an M.S. in Organic Chemistry at the University of North Dakota at Grand Forks ND. He was a 60-yr member of Centre Lodge #273 Free & Accepted Masons.

At Jamestown College Bill met Marjorie "Marge" Ann Finkbeiner, a nursing student, who later became his wife on June 8, 1952, in Eureka SD. His first child, David, was born in 1953 when Bill was in graduate school completing his Master's Degree. Following school in 1953, Bill and his young family moved to Midland, where he joined Dow Chemical Company for what was to become a 33-year career as a chemist. While at Dow, Bill enjoyed a wide variety of positions in R&D, including early bathroom cleaner formulation development and patent, Dowell industrial cleaning, corrosion research and inhibitor development, and Methocel* thickeners Technical Service and Development. Bill retired from Dow Chemical in 1986.

Faith was an important part of Bill's upbringing, having been baptized in 1938 and confirmed in 1949 at Hettinger Lutheran Church. He's been a member of Trinity Lutheran Church Midland since 1954, when he and his family moved to Midland. Bill and Marge had four more children (Paul, Mark, Ann and Thomas), all born in Midland. Marge died quite suddenly in 1969, leaving Bill a widower with five young children.

Bill met his second wife, Linda Joyce Redfield, another Dow chemist working in the corrosion R&D group. They married on October 30, 1971, at Trinity Lutheran Church Midland. Linda adopted Bill's minor children and a short time later they had a son, Steven, born in Midland in 1973. Bill's devotion to both his family and his church, can be seen in his active participation in both areas of his life. He passed his love of sports on to his children and served many youth teams as coach, umpire or referee, not to mention vigorous cheering whenever a child or grandchild headed for a field or court or mat or pool. He was very active at Trinity during it's early growth period, serving on various church boards and committees through the years, as well as with Boy Scout Troop #760. He enjoyed various bible and book studies and helped organize XYZ senior activities for the church. He and Linda were ardent participants and supporters of Lutheran Via de Cristo of Central Michigan. In fact, Bill's reunion prayer group of men met weekly for many years and continued periodically right on through his time in Assisted Living and Memory Care, when his prayer partners came to meet with him and to pray at Bickford Midland.

Bill loved music and dancing and had a weekly date each Saturday night to watch the Lawrence Welk Show on PBS TV. He and Marge square danced with a group from Midland. When he and Linda were married, he switched to ballroom dancing with Linda, because the square dance era had all but ended in Midland. Linda and Bill especially enjoyed dancing to the live bands, which played and entertained on the cruises they took. He especially loved to dance at weddings, his own and those of his children, grandchildren and friends. He played the trumpet in high school and college and was a member of the Hettinger Cowboy Band. He played in the Cowboy Band for all his school class reunions held every 5 years in Hettinger. The last he attended and played was at his 60-yr class reunion in 2007, which coincided with Hettinger's 150-yr Anniversary, a grand celebration and all-class reunion for the entire town.

In retirement, Bill and Linda enjoyed travel, both domestic and international. They also enjoyed golf. They built a year-round home, "The Cottage" on Big Twin Lake in Kalkaska County. Through the years The Cottage became the preferred gathering place for many family vacations and celebrations, big and little. They loved to entertain and host their family and friends, both in Midland and at The Cottage.

In addition to his first wife and parents, Bill was preceded in death by two daughters-in-law Pegie (Maniscalco) Bakke and G. Faye (Chiszar) Bakke. He is survived by his wife of 46 years, Linda (Redfield) Bakke, as well as by his six children and their spouses: David and Susan (Gulish) Bakke of Midland; Paul Bakke of Denver; Mark and Paulette (MaGrath) Bakke of Reddington Beach FL; Ann (Bakke) and Daniel Brown of Midland; Thomas and Elissa (Neimeth) Bakke of Evansville IN; and Steven Bakke and Julie Staraitis of Ayer MA. Bill is also survived by 9 grandchildren and respective families: Andrew and Felicia (Tuntland) Bakke of Columbia MD; Margaret Bakke of Cleveland; Nathan Brown and friend Nikki Brabaw of Mt. Pleasant; Jason Brown and friend Raviay DeShone and children Alyra and Alita DeShone of Beaverton; Eric Brown and fiancée Kelsey Morse of Midland; Jordan Bakke and Alexander Bakke of Evansville IN; and Keith Bakke and Craig Bakke of Ayer MA. Bill is also survived by his niece and her son, Dawn and Kyle Redfield of Suarita AZ; two step-granddaughters, Gabriella MaGrath of Clearwater FL and Kaelin MaGrath of Gainsville FL; as well as by extended family and numerous friends.

A funeral service for Bill will take place 11 a.m. Saturday, June 30, 2018, at Trinity Lutheran Church, 3701 Jefferson Ave., Midland MI 48640; Pastor Gerald Ferguson will officiate. Bill's family will receive friends at the church on Saturday, June 30 from 10 a.m. until the time of the service. A private cemetery committal service is planned for family at a later time. For those wishing, memorial contributions may be made to Trinity Lutheran Church Midland; to Samaritas (formerly Lutheran Social Services of Michigan), 8131 E. Jefferson Ave, Detroit MI 48214; or to a charity of the donor's choice.
Previous Events
Visitation
Trinity Lutheran Church - Midland
3701 N. Jefferson Avenue
Midland, MI 48640
Service
Trinity Lutheran Church - Midland
3701 N. Jefferson Avenue
Midland, MI 48640
Memorial Contribution