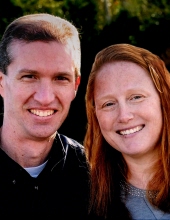 Obituary for Jennifer L. Birchmeier
Jennifer L. Birchmeier of Prattville, Alabama died suddenly, June 27, 2018. She was born May 22, 1972 to Llewellyn III and Marilyn (Lockwood) Harkness, in Southfield, Michigan. The family moved to Texas in 1982 where she resided until moving back to Michigan in 1998. She married Brett Birchmeier in 2000, and raised their two daughters, Alyssa and Sarah in Midland until moving to Prattville.

She was a member of Blessed Sacrament Midland Parish and then St Joseph Prattville Parish. She graduated from Texas A&M with a degree in mechanical engineering and worked for The Dow Chemical Co. for 24 years. She enjoyed her crafts, gymnastics, pets, and especially her family. Since a cancer recurrence in 2015 she persisted on that difficult journey until her heart failed her during a hopeful new therapy in Houston, Texas. She was an inspiration, seldom complaining along the way.

Visitation at Blessed Sacrament Church in Midland at 10 a.m. on July 3, 2018, followed by an 11 a.m. funeral Mass celebrated by Fr. Kevin Maksym. Burial will be at St. Michaels Cemetery of Maple Grove.

Surviving her are her husband, Brett; daughters, Alyssa and Sarah; brother, Llewelyn (Julie) Harkness; mother, Marilyn Harkness; mother- and father-in-law, Dallas and Carolyn Birchmeier; brothers-in-law, Darron (Cindy) Birchmeier and Matt (Amy) Birchmeier; seven nephews, two nieces, and grandmothers Joan Harkness and Neoma Wendling. She was preceded in death by her father, Llewellyn III. Those planning an expression of sympathy are asked to consider Prattville Christian Academy or the Prattville YMCA.
Previous Events
Service
Blessed Sacrament Catholic Church
3109 Swede Ave
Midland, MI 489642